Three months ago, I moved to Cambridge to become a Curriculum Writing Fellow at Bridge International Academies (or Bridge, for short). How and why I ended up at this company has everything to do with my time at UConn.
I graduated from the Individualized Major Program with a degree in International Relations. I was like pretty much everyone else I knew who devoted four years to studying global affairs: we all wanted to do something important. But how exactly do you achieve a global impact? And how do you do it responsibly, without it being a vanity project?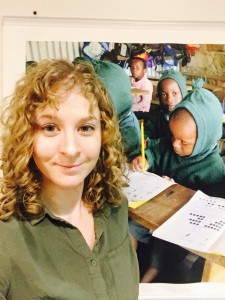 Bridge opened its first academy in Nairobi, Kenya in 2009. Since then, the company has opened over 400 schools and expanded into Uganda, Nigeria, and soon India. It controls every aspect of creating and managing the schools, from building the academies to running the classroom. Scale is Bridge's secret to success: using technology, data, and some heavy initial investments, Bridge takes advantage of efficiencies that reduce overhead costs and allow for enormous reach (without sacrificing academic quality). That's why I have the opportunity to directly impact the education of hundreds of kids on a daily basis.
A day in the life of a Curriculum Writing Fellow is busy, challenging, and gratifying. We write the textbooks handed to our pupils every day. We come up with the math problems they do for homework every night. And perhaps most interestingly, we write the teacher guides that their instructors read, word-for-word, in every class, every day. Though scripted lessons are a controversial method in the United States, Bridge's massive data team has found that they work really well in our academies. In countries with far fewer trained and quality teachers than the U.S., writing lessons and delivering them on teacher tablets allows us to maintain a high standard of quality for each pupil at an affordable cost. And by using teacher tablets, Bridge can compile data in real time about each individual classroom and use it to constantly improve our approach. In other words, we are always striving to do better.
And I get to be a part of it. Knowing that the hard work I invest in my job actually means something, and has impact, is incredibly satisfying. The fact that hundreds of kids are going to read what I write motivates me to create the best, most creative lessons I possibly can. I leave work every day feeling like I've done the best thing I possibly could with my time. As a student myself studying International Relations just a few years ago, this is what I strove to do.
by Elise Ursin