Spring 2022:
We will be teaching our gateway and capstone courses in person in Spring 2022. Most of our advising appointments will be virtual. Michael will be on campus, though, on Tuesday and Thursday afternoons for in-person appointments – check Nexus for availability. For appointments with Monica via WebEx, please schedule using Nexus.
Advising Appointments:
During the semester we use Nexus to schedule appointments. You can find us under Storrs, "Enrichment Programs," or search by last name.  When you make an appointment through Nexus, it will send you a link to the appropriate WebEx meeting room or (if in person), provide you with the office location.
During the summer and winter sessions we don't use Nexus. Please email us to schedule an appointment.
Email:
iisp@uconn.edu
Staff
Monica van Beusekom, Ph.D.
Director, IISP
Tel: (860) 486-0324 | Rowe 402 | monica.vanbeusekom@uconn.edu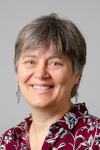 Monica van Beusekom earned a B.A. in History from Tufts University and a Ph.D. in African History from Johns Hopkins University. Her research has focused on colonial development policy and practice in francophone West Africa, especially Mali. Publications include the book, Negotiating Development: African Farmers and Colonial Experts at the Office du Niger, 1920-60, as well as several articles. She taught African and global history at the State University of New York in Plattsburgh (1994-98) and African history at Trinity College in Hartford (2000-06). Prior to teaching, Monica also worked for several international development NGOs, including four years managing Oxfam-Great Britain's program in Chad. She joined IISP in 2006.
Monica primarily advises current individualized major students. She also serves as the Honors adviser for the Individualized Major Program, teaches the Individualized Major Program gateway course (UNIV 2600 Individualized Study Across Academic Disciplines), and coordinates the Crime and Justice minor.
---
Michael Cunningham, Ph.D.
Assistant Director
Tel: (860) 486-2933 | Rowe 406 | michael.cunningham@uconn.edu
Michael Cunningham earned a B.S. in Mechanical Engineering from Lehigh University and a Ph.D. in European History from the University of Connecticut. His main interest is the history of science from the Scientific Revolution to the present, including the work of Charles Darwin and the continuing controversy over the theory of evolution by natural selection. He has taught History of Science and European history, primarily in the context of Western Civilization, at UConn and several other colleges in Connecticut. In the years between graduating from Lehigh and beginning the graduate program at UConn, Michael served as an account manager for Travelers Insurance in Hartford, Connecticut. He joined IISP in 2013.
Michael advises individualized majors and teaches the Capstone Course (UNIV 4600W) and a section of the gateway course (UNIV 2600).
---
Krista Rogers
Global Studies Minor Advisor and Pre-Professional Programs Advisor
Tel: (860) 486-7938 | Rowe 403 | krista.rogers@uconn.edu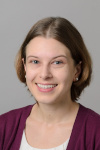 Krista Rogers earned a B.A. in Japanese Studies (individualized major) from UConn and an M.A. in TESL from Simmons College. Prior to graduate school, she spent two years teaching English as a Foreign Language at a junior high school in Yamagata, Japan through the Japan Exchange and Teaching (JET) Program. In addition, she served as an instructor for an Intensive English Program at UConn for three years and maintains a part-time translation job. She joined IISP in 2008 as a student worker and in 2015 as a professional staff member.
Krista serves as a Pre-Professional Program Advisor and she advises students pursuing the Global Studies Minor.