Advising Appointments:
During the semester we use Nexus to schedule appointments. You can find us under Storrs, "Enrichment Programs," or search by last name.  When you make an appointment through Nexus, it will send you a link to the appropriate WebEx meeting room or, if in person, provide you with the office location.
During the summer and winter sessions we don't use Nexus. Please email us to schedule an appointment.
Staff
Ken Cormier, Ph.D.
Director
Rowe 402 | kenneth.cormier@uconn.edu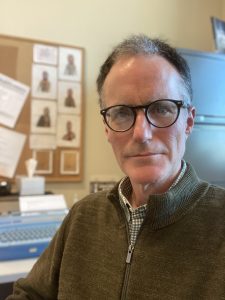 Ken Cormier earned his Ph.D., M.A., and B.A. in English at UConn, in addition to an M.A. in English/Creative Writing at Eastern Michigan University. He is the author of two books of stories and poems: Balance Act and The Tragedy in My Neighborhood. Ken's scholarly work is interdisciplinary in nature, focusing on the history of audio recording, multitrack production, life stories, poetry, and performance. He taught English and Creative Writing at Quinnipiac University (2010-22), where he also served as the first director of Creative Writing, building the program from the ground up with a focus on student engagement and diverse voices. Prior to his roles at Quinnipiac, Ken served as Assistant Director and then Associate Director of UConn's Creative Writing Program and Co-Director of the Writing Center. He joined IISP in 2022.
---
Michael Cunningham, Ph.D.
Assistant Director
Rowe 406 | michael.cunningham@uconn.edu
My undergraduate degree is in mechanical engineering from Lehigh University and my doctoral degree is in European History from the University of Connecticut. My graduate work focused on the history of science in Europe from the Scientific Revolution through the Darwinian Revolution. I have taught History of Science and European history, primarily in the context of Western Civilization, at UConn and several other colleges in Connecticut. After graduating from Lehigh and before my graduate work at UConn, I served as an account manager for Travelers Insurance in Hartford, Connecticut. I joined IISP in 2013. When I am not helping students create their own majors I enjoy reading – especially books about big picture history – and watching baseball.
I advise individualized majors and students interested in the Global Studies Minor. I also teach UNIV 2600 Individualized Study Across Academic Disciplines (the "gateway" course for the individualized major).
---
Monica van Beusekom, Ph.D.
working on special projects
monica.vanbeusekom@uconn.edu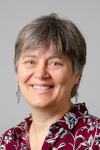 Monica van Beusekom earned a B.A. in History from Tufts University and a Ph.D. in African History from Johns Hopkins University. Her research has focused on colonial development policy and practice in francophone West Africa, especially Mali. Publications include the book, Negotiating Development: African Farmers and Colonial Experts at the Office du Niger, 1920-60, as well as several articles. She taught African and global history at the State University of New York in Plattsburgh (1994-98) and African history at Trinity College in Hartford (2000-06). Prior to teaching, Monica also worked for several international development NGOs, including four years managing Oxfam-Great Britain's program in Chad. She joined IISP in 2006.
---