I decided to pursue an Individualized Major in Information Systems and Analytics because I wanted to combine coursework ranging from Analytics to Quantitative Economics. My Individualized Major has been critical in the development of my technical and quantitative skill sets. I knew that by creating my major I would stand out versus other job candidates because of the unique development and application of my coursework with my job experiences.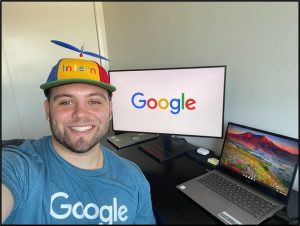 This past summer (2021) I was a gTech gCare BOLD Intern at Google. The BOLD Internship Program focuses on building opportunities for leadership and development. The team I worked with this summer functioned within the gTech organization, where I worked with colleagues to troubleshoot technical issues affecting Google Ads accounts. I also worked with a team of interns to develop a Python Colab notebook that analyzed operations and performance data. This experience helped to create a community with my cohort; every day was met with a new challenge that required innovative problem solving to offer timely solutions for Google Ads clients all across the world.
With the conclusion of my internship, I am excited to be returning full-time to Google next year as a Solutions Consultant! It was an amazing summer, and I would not have had the opportunity without my Individualized Major in Information Systems and Analytics.
By Danny Lesh ('21)
IMJR: Information Systems and Analytics
---