Doing the individualized major at UConn was by far the best decision I made. The road to my individualized major wasn't straightforward. I was a junior at UConn and finally coming to terms that I didn't want to go to medical school. I had been a student organizer on campus with CT Students for a Dream, an immigrant rights organization, and my values had become very clear to me: I believe that healthcare and immigrant rights are human rights, and both are intricately connected and crucial for the sake of public health and to achieve health equity.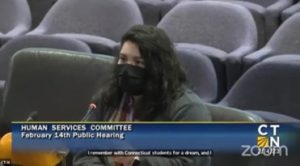 I majored in Health and Social Inequalities with minors in Human Rights and Latino Studies. I took classes in biology, sociology, anthropology, allied health and human rights to name a few. The individualized major gave me the opportunity to recover my studies from the first two and a half years of my studies, to connect with my values, and feel like I was getting the most out of my education. I loved it. This path allowed me to combine my academic and personal interests without feeling like I needed to pick one over the other.
The faculty advisors each individualized major student needs to have allowed me to have support from several professors in a way I did not have before. These connections quickly led to a scholarship, an internship at a local health department and free learning opportunity to be trained as a medical interpreter prior to graduating. I left UConn feeling confident and proud of what I had learned and prepared for a career in public health or public policy.
Soon after graduating from UConn I began to work as a Community Organizer and then as an Organizing Specialist at Planned Parenthood of Southern New England. I advocated, coordinated and mobilized partners to support two successful campaigns at the state capitol. I was a co-founder for the HUSKY 4 Immigrants campaign, which is working to extend CT's Medicaid program (HUSKY) to all income-eligible residents regardless of their immigration status. The second campaign, Doulas4CT, focused on getting doulas services covered by the state's Medicaid program. Both campaigns allowed me to tap into the education I received at UConn, often referring back to my capstone paper or academic articles about the U.S. healthcare system, race and reproduction, and the right to healthcare.
Currently, I work as a Policy Analyst at Community Catalyst, a leading national health advocacy organization. I provide policy support to state partners who are pursuing initiatives to expand access to healthcare coverage to everyone, regardless of their immigration status. At the federal level, I have had the opportunity to do administrative advocacy with leading healthcare and immigrant rights advocates to identify solutions to improve immigrants' access to healthcare.
My Individualized Major and organizing work set me up for success – in ways I don't think I fully comprehended when I was still at UConn. I'm glad that today in many ways I continue the education and advocacy work I did as an undergraduate.
By Kati Villeda ('18)
---