I am Brielle Berkowitz, a senior in the Individualized Major Program studying Global Healthcare. When I came to IISP in 2018 I knew I intended to get my Masters of Public Health, but I really had nowhere to start. I knew a few things about SOPHAS (the application system), the GRE, and recommendation letters. It was difficult to know where to find advice. However, what really matters is your passion for public health.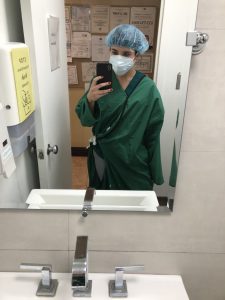 The IMJR program was a great advantage to me because I designed my own major to reflect my passion for public health. I was able to choose my advisors who all had their MPH degrees and utilize them for advice on graduate schools and personal statements. My major gave me the flexibility to take a lot of public health courses as well as health insurance, anthropology, and human rights concentrations. My faculty advisors and Monica van Beusekom were a tremendous help in finding courses that reflected my major and what I would possibly take in graduate school.
Although getting experience in public health is difficult as an undergrad, there are many clubs and groups on campus to get you exposed. I went on a MEDLIFE program to Peru, where I volunteered in clinics. I also utilized the Education Abroad office to get an internship in London, which was cancelled when Covid-19 hit. Instead, I worked as a Covid Caring Partner and helped families make connections to those in the facility where I worked. I gained invaluable experience on care management and administrative work. There are opportunities everywhere you look, and demonstrating passion for public health as well as gaining experience is great when applying or seeing if you enjoy this field.
Graduate admissions offices recognized the value of my major. For example, due to my knowledge of the social determinants of health, I was better able to understand factors leading to the cervical cancer epidemic in Peru. The freedom and focus of class choice I had due to being in IMJR made me a well-rounded applicant as I was able to demonstrate a variety of skills. It is important to recognize how much you can gain from the individualized major and how to apply it in an admissions essay. I was able to say how my classes prepared me for the public health field and showed my passion for continuing the work I was doing.
For those interested in graduate work in public health, I wish you luck in applying to schools!
By Brielle Berkowitz
Global Healthcare