This past Spring, as a second semester junior at the University of Connecticut, I studied abroad at the University of Wollongong in Australia. Studying abroad was something I always wanted to do, and combining that with my newly created individualized major, Global Health and the Environment, was icing on the cake.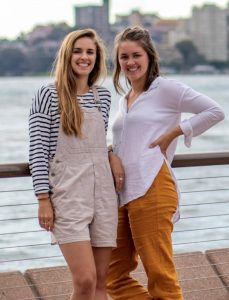 My major focuses on human health, environmental health, and how they interact. One of the classes I took while abroad, Sociology of Food and Nutrition, seemed made just for me. It pieced together many different elements of my major and emphasized the connections between our health and the environment around us. With lectures on agriculture, sustainability, food culture, and other related topics, I was inundated with information in the best way possible. The class discussion allowed for exchange of ideas between students of different cultures, religions, and national origins. I spent a good portion of time on a group project delving into the effects of climate change on communities, which directly relates to what I am studying and gave me the space to explore it on a deeper level.
While in Australia, I contacted a few non-profit organizations and participated in some of their community beach and park clean-up events. Not only did I help out in Wollongong and Sydney, but I also attended community awareness events on plastic pollution and political action. I heard speakers from the United Nations and made connections with people and companies that have led to volunteer opportunities here at home. Forming these relationships would not have been possible without my individualized major; it served as a springboard that allowed me to reach out and introduce myself.
Studying abroad in Australia also meant learning the slang, indulging in Australian coffee, meeting people from all over the globe, spraining my ankle, seeing dolphins, and studying at an incredible institution where I got to know my professors and challenged myself both academically and personally.
Coming back I was more excited for my senior year of college than I ever thought I could be. I arrived home with a clearer purpose, more confidence, independence, and knowledge than I had before. My time abroad expanded my horizons in ways that only real life experience can, and for that I will be forever grateful.
If you're feeling nervous about studying abroad, that's okay. I was nervous too. Do it despite your fear of the unknowns. Grasp the opportunity to grow, learn, and have fun. The world is out there waiting for you. Go introduce yourself!
By: Abigail Roth
Individualized Major: Global Health and the Environment
---