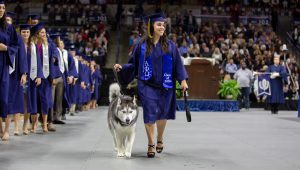 The close of the academic year is an opportunity to share news about individualized majors and their wide-ranging accomplishments. Even during an academic year as challenging as this one has been, individualized majors have engaged in research, virtual education abroad experiences, virtual internships, and campus-enriching co-curricular activities.
Graduates
Sixty-one students will graduate with an individualized major this year (Dec '20 and May and Aug '21). You can read about the accomplishments of our graduates in the 2021 Grad Booklet.
Highlights
Fatima Abu Bakr (IMJR: Medical Ethics and Genomics) has been granted the Student Employee of the Year Award from Student Life. Fatima is a peer tutor at the Avery Point Academic Center and has a real passion and talent for helping other students. In the Fall 2020 semester, Fatima stepped into a new role by running review sessions for Organic Chemistry. She found creative ways to run sessions, including chats where students could pool resources, game nights for peers to socialize, and helpful videos. Fatima is not just a tutor; she is a student leader who takes it upon herself to develop one-on-one connections with her tutees and professors.
Michelle Antony  (IMJR: Community Health; Molecular and Cell Biology) has been awarded a SURF grant for her project "EGFR Signals in the Chondroprogenitor Response to Articular Cartilage Injury."
Matan Doron (IMJR: Science, Medicine, and Ethics; Biological Sciences) has been accepted into the University Scholar program, for which he will explore the relationship between breath and health. "The reality of a pandemic caused by a respiratory virus has forced society to reckon with the vulnerability of its breath. However, far from being an isolated physiological phenomenon, the symbolism and allegory of breath emerges as an important component in a various theological, philosophical, and sociopolitical thought systems. Through my University Scholars project I will integrate various understandings of breath into a manuscript addressing the meaning of and responsibility derived from inhabiting a breathing body. My goal is to reflect upon the shortcomings of contemporary society while inspiring the pursuit of livable institutions oriented about health and human flourishing." Matan's faculty committee are: Sarah Willen, Anthropology (chair); Lewis Gordon, Philosophy; Dan Mulkey, Physiology and Neurobiology; and Regina Barreca, English.
Ellie Fitzgerald (IMJR: Arts Administration; Art History) has been awarded a SHARE grant for her project "Quilt Patterns: American Folk Art, Representation, and Class Negotiations." Ellie's mentor is Alexis Boylan (Art and Art History, Africana Studies Institute).
Prabhas KC (IMJR: Consumer Behavior; Economics) has been accepted into the Leadership Legacy Experience. Prabhas has served as an Innovative Wellness Intern at UConn and a Marketing Intern with UConn Extension and Motivate MD. He is also involved with the Mansfield Downtown Partnership Board of Directors and has been a volunteer with Camp Kesem in various capacities. In the future, Prabhas aims to work in the strategy consulting industry, venture capital, or digital marketing, and plans to continue his work with nonprofits.
Maria Kelley (IMJR: Law, Social Justice, and the Family) has been accepted into the Leadership Legacy Experience. Maria is a member of the Human Rights & Action Learning Community, the president of Creating Caring Communities, and a mentor with the METAS program. She also worked as a summer 2020 intern with the Office of Civil and Human Rights. Maria is passionate about children and women's rights, and hopes to pursue a J.D. in the future to eventually seek out a career in advocacy work.  Maria has also been selected to be part of the 4th cohort of BOLD Scholars.
Kynza Khimani (IMJR: Global Health; Physiology and Neurobiology) received an IDEA grant for A Mixed Method Study of Access to Organic Diet in Children Affected by PANS (Pediatric Acute-Onset Neuropsychiatric Syndrome). Her supervisor is César Abadía-Barrero, Anthropology and Human Rights.
Humza Zaidi (IMJR: Global Health and Reproduction; Molecular and Cell Biology) has been granted the Individual Community Service Award from Student Life. Humza launched the Restaurant Resource Project in the spring of 2019, in which he brought together a group of individuals to collect and donate unused but consumable food from restaurants to combat food insecurity within Connecticut. He is also heavily involved in initiatives related to equitable healthcare and LGBTQ+ identity within the Muslim community. He is currently working to build bridges among local Muslim communities to discuss sexual identity issues through an inclusive lens and intensive dialogue. Perhaps what is most notable about Humza, though, is his dedication to the field of medicine. His commitment to Be the Match, a bone marrow registry at UConn, has given him the means to connect with others to create social change. He eventually hopes to engage through the CDC or WHO to improve community health outcomes.
Humza has also been awarded a SURF grant for his project "Identifying an Early, Novel Biomarker in the Retina for Alzheimer's Disease."
Phi Beta Kappa Seven individualized majors were elected to Phi Beta Kappa this year.
IMJRs in the News
Adriana Sowell (IMJR: Sociomedical Sciences) was featured in UConn Today for her role in the Student Advisory Board of the Pandemic Journaling Project co-founded by Sarah Willen (Anthropology). The project is designed to preserve personal observations of life during Covid, so that individual perspectives are not lost to history.
Aziz Sandhu (IMJR: Global Health '19) and Sahil Laul (IMJR: Global Health; Molecular and Cell Biology '19) were featured in UConn Today for their efforts to create a communication platform that provides emotional and personal context to help people make sense of the barrage of information being shared during the Covid crisis.
Cameron Klemme (IMJR: Law, Justice and Society; Psychology) was featured in UConn Today for her work on the student journal The Mirror. Cameron is the vice president of the Student Sociology Club, which hosts the journal.
Laura Nardelli (IMJR: Organizational Behavior and Leadership) is part of a "College Tour" episode on Amazon Prime (which was featured in UConn Today). In the program, she leads viewers on an in-depth look at life in Storrs – the "Heart of the Northeast" – and activities in the changing seasons, the unique cultures of the regional campuses, and offerings in Downtown Storrs.
Previous Years in Review