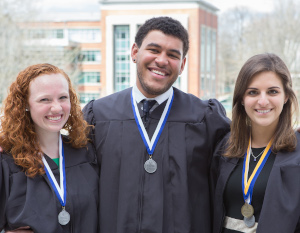 The close of another academic year is an opportunity to share news about individualized major students' wide-ranging academic and co-curricular accomplishments.
Graduates
Sixty-nine students will graduate with an individualized major in 2018-19. You can read about the accomplishments of our May and August graduates in the 2019 Graduates Booklet.
Highlights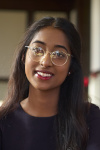 Akshayaa Chittibabu, who has an individualized major in Health, Policy, and Social Medicine, has been named a Marshall Scholar, one of the most prestigious honors available to undergraduate students in the U.S. She is one of 48 Marshall recipients nationwide this year, and the fifth UConn student to be so honored since the scholarship was established in 1953.
Akshayaa, a resident of Shrewsbury, Massachusetts, is also a STEM Scholar in UConn's Honors Program, a 2018 Truman Scholar, a 2018 UN Foundation Global Health Fellow, a 2018 Washington Leadership Program Scholar, a 2017 Newman Civic Fellow, a 2016 Holster Scholar, and a UConn New England Scholar. She was also elected to Phi Beta Kappa as a junior. She will spend her first year as a Marshall Scholar at the University of Oxford where she plans to pursue an M.Sc. in sociology, with focuses in political and medical sociology. She then plans to spend her second year at the University of Edinburgh, studying medical anthropology.
Emilyn Tuomala, who has an individualized major in International Security, was UConn's 2019 nominee for the Gaither Junior Fellowship. Emilyn, a senior Honors student, is also majoring in Political Science with a History minor. She completed an internship with the Missile Defense Advocacy Alliance in Alexandria, VA before her senior year and is currently an intern in Congressman Joe Courtney's office. Her senior thesis, supervised by Evan Perkoski, is on the growth of the U.S. missile defense program. In the fall, Emilyn will be attending George Washington University for a Masters in Security and Nuclear Studies.
Valeria Sarmiento, who has an individualized major in Global Health and Nutrition, has been awarded an IDEA grant for her project "Investigating the Mechanisms of Plastid Division in the Human Pathogen Toxoplasma gondii." Valeria will study the specific mechanisms of a unique motor protein related to plastid division in the human pathogen Toxoplasma gondii with the goal of potentially identifying a new direction for drug development targeting this parasite.
Mackenzie Blanusa, who is pursuing a major in Atmospheric Science, has been awarded a SURF grant for her project on "The Effect of Storm Type and Source Region on the Chemical Composition of Precipitation along the Long Island Sound Coastline." Her faculty mentor for this project is Kelly Lombardo from Marine Sciences.
Daasebre Asante, who is majoring in Law and Society was awarded the Matthew B. Schechter Scholarship. He is the founder of the National Black Law Student Association at UConn and founded this group in an effort to articulate the educational, professional, political and social needs of minority pre-law students and to promote direct representation of African Americans in the legal field.
Emily Burke, a sophomore majoring in Youth Development and Wellness, was a finalist for the Emerging Leader Award. She serves in a variety of roles on campus such as a Bodywise Instructor at the UConn Recreation Center and as an active member of Husky Nutrition. She is also an active member in UConn's Jumpstart Program as an AmeriCorps member and works with UConn students at preschools in low-income neighborhoods to help the students build up their literacy skills in preparation for Kindergarten.
Kaitlyn Luft, a senior majoring in Global Health Promotion, was a finalist for the Student Leader of Character Award. She recently served as a primary trip leader for the 2019 Costa Rica alternative break. She also serves as a 'Big' in Big Brothers Big Sisters, has been involved in Honors UNIV Courses, and has led campus discussions on the use of inclusive language. Kaitlyn aspires to create an environment where everyone present is a "co-educator," teaching and challenging each other and striving to value every person's experiences and perspectives.
Sahil Laul, a senior majoring in Global Health, was featured in the Inside CLAS Newsletter.
Phi Beta Kappa
Nine individualized majors were elected to Phi Beta Kappa this year.
Alumni Highlights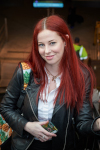 Haley Dragoo ('13, Consumer Behavior) was profiled in the UConn Magazine. With the official title Assistant Transit Customer Service Specialist, she posts more than 100 times per day through Twitter account @NYCTSubway, which has more than 960,000 followers, as well as the MTA's official website, Facebook page, and MYmta app. She posts status updates about delayed or stalled trains as well as in-the-moment replies to questions or complaints from individual passengers who message or tweet at the MTA.