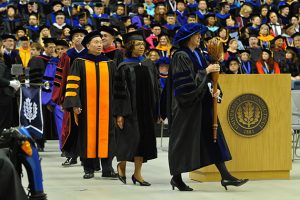 The close of another academic year is an opportunity to share news about individualized major students' wide-ranging academic and co-curricular accomplishments. Previous years' news: 2018-2019.
Graduates
Sixty-eight students will graduate with an individualized major this year (Dec '19, May '20, and Aug '20). You can read about the accomplishments of our graduates in the 2020 Graduates Booklet.
Highlights
Rei Bufi (Molecular and Cell Biology and Individualized: Art, Globalization, and Activism) was awarded a SURF grant for her project "The Need for Evidence-Based Exercise Intervention for Non-Alcoholic Fatty Liver Disease: A Systematic Review and Meta-Analysis" for summer 2020.
Leelakrishna Channa (Molecular and Cell Biology and Individualized: Healthcare and Society) is this year's recipient of the Student Leader of Character Award. He has served as a teaching assistant and as president of the CLAS Student Leadership Board. Krishna is always willing to volunteer his time by leading Open House presentations and suggesting new initiatives.
Erin Dennehy (Political Science and Individualized: Law and Society) was awarded an IDEA grant for her project "Public Perception of the Legitimacy of the Supreme Court: The Impact of Questionable Ethics" for academic year 2020-21.
Simone Fournier (Individualized: Healthcare and Aging) was awarded an IDEA grant for her project "Barriers to End of Life Planning Among Connecticut Older Adults" for summer 2020.
Ellen Fuller (Chemistry Education and Individualized: Speculative Fiction for Young Audiences) was awarded an IDEA grant for her project "Children's Voices in Fiction" for summer 2020.
Siara Maldonado (Individualized: Global Health) Has been awarded a Cohen Student Leadership Scholarship for Enhancing Community. She works with the Undergraduate Student Government (USG) as the Cultural Awareness Committee Chair and has helped organize the Cultural Appreciation Series, which has the goal of creating a more culturally aware campus. She has facilitated discussions on colorism, health inequities, and has committed herself to community service.
Marie-Claire Meadows (Individualized: Global Health) is this year's recipient of the individual Husky Pride Award. She serves as the Learning Community Executive Council Recruitment Chair and shares her love of UConn with thousands of prospective and incoming students at Open Houses, Husky-for-a-Day presentations, and UConn Bound Day. Additionally, Marie-Claire is co-chair of the Alpha Phi Omega's Husky Committee, the sole care-takers of Jonathan XIV.
Annette Montoya (Individualized: Landscape Design for Cognitive Development) was featured in the September 19 issue of UConn Today. The focus of the article is the cognitive garden that she designed and built at the Avery Point campus. The project was funded by an IDEA grant and also received considerable support from businesses and countless volunteers from the Avery Point and New London region.  Learn more at Cognitive Garden at Avery Point.
Shreya Murthy (Individualized: Criminology) was accepted into the University Scholar program. Shreya, a junior Honors student, is also majoring in Human Rights and Finance and is a member of the Special Program in Law. Her University Scholar Project is entitled "Working Toward a Safer Future: Mitigating the Effects of Regulatory Capture in the Aviation Industry." She will be working with David Richards, Political Science and Human Rights; Kimberly Bergendahl, Political Science; and Paul Gilson, Finance. Her work on this project has been profiled on the School of Business website.
Valeria Sarmiento (Individualized: Global Health and Nutrition) was featured in the March 11 issue of UConn Today. The focus of the article, which is part of the "Meet the Researcher" series, is Valeria's work on Toxoplasma gondii – a parasite that causes toxoplasmosis, an infectious disease that is especially problematic in Valeria's home country of Colombia.
Phi Beta Kappa
Fourteen individualized majors were elected to Phi Beta Kappa this year.